News
Monday May 15th, 2023
All event –ticket sale starts on May 16th
All event -campaign offer is valid until June 15th.

Metro Areena Espoo will be filled with sparkle, acrobatics, breathtaking skills and interpretation when the international figure skating stars return to Finlandia Trophy Espoo to kickstart their competition season in October 6th–8th, 2023.  
All event tickets will go on sale in Ticketmaster.fi online store on May 16th at 10 a.m. (EET).
Day ticket sales will be starting on August, while all event -ticket sale ends.
The 27th Finlandia Trophy Espoo competition is one of the core events of the ISU Challenger Series.
In addition to single skating, ice dance, pair skating and synchronized skating the Special Olympics skaters with developmental disability or learning disorder are invited to the competition. 
Please have a look at the ticket info. Entries will be announced on September at the ISU website. We reserve right for the changes.
PSST: Grand Prix Espoo All Event tickets from here!
By buying an adult all event -ticket for both events, you will get coffee and pastry for Finlandia Trophy Espoo and for Grand Prix Espoo three course menu from stand restaurant Marios. Offer is valid until June 15th. After campaign is over ticket holder will get link to make meal reservations.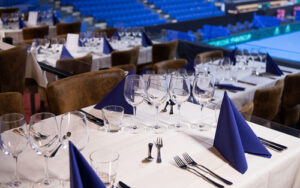 See you in Espoo! 
---
List of Finlandia Trophy entries Friday September 8th, 2023
Finlandia Trophy Espoo day tickets on sale now! Tuesday August 1st, 2023